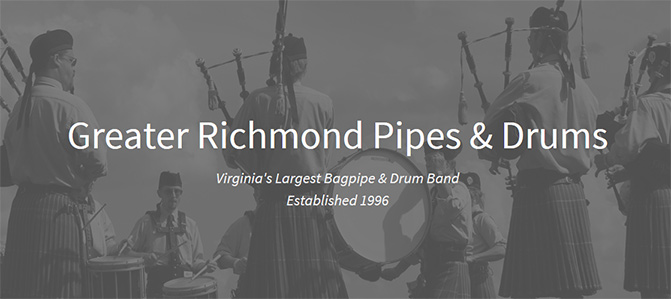 The Greater Richmond Pipes & Drums was founded in 1996 in Richmond, Virginia. We have grown to become the largest competition and performance bagpipe and drum band in Virginia. We are comprised of over 50 bagpipers and drummers from Richmond, Charlottesville, Fredericksburg, Roanoke & Williamsburg.
The Greater Richmond Pipes & Drums is a member of the Eastern United States Pipe Band Association (EUSPBA), which sanctions individual and band competitions from Maine to Texas. It is one of the largest bagpipe band associations in the world.
Band Competition & Events Calendar (2022/2023 Season)
Saturday, September 3, 2022 @ 9:00am




COMPETITION: Virginia Scottish Games

The Plains, VA
Competition
16 days

Saturday, October 1, 2022 @ 8:00am




COMPETITION: Scotland County Highland Games

Laurinburg, NC
Competition
44 days

Tuesday, November 15, 2022 @ 5:30pm




Group Beginner Bagpipe Class 1 Begins

Richmond
Competition
89 days

Friday, December 9, 2022 @ 7:00pm




Church Hill Candlelight Walk

Richmond, VA
Performance
113 days
Our goal is to promote Scottish culture and music in the Mid-Atlantic region, and to attract and teach the highest caliber Pipers and Drummers in Central Virginia. In addition, we are committed to excellence in competition, performance and providing low cost lessons to learn the bagpipes and drums. And above all else, we have fun!